Do your kids love emojis? Those bright, yellow faces exploded in popularity over a decade ago, and it seems they're here to stay. If you can't get enough of these whimsical icons, you'll love this list of emoji crafts for kids. With 15 projects to choose from, you'll find activities for everyone from toddler to teen.
Make some decor, get crafty, and most of all, enjoy spending creative time together. A family that crafts together gets all the heart eyes emojis!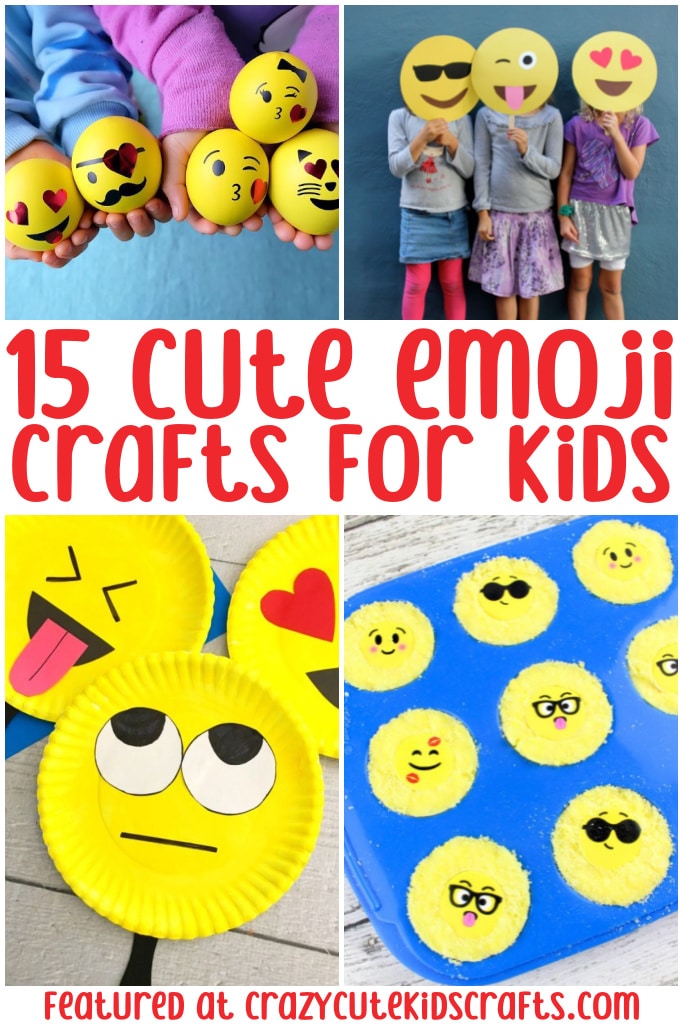 Cute Emoji Projects Kids Can Make
Turn paper plates into emoji puppets. Use paint, construction paper, jumbo craft sticks, and a little imagination. You can skip painting the paper plates by purchasing yellow ones if you'd like to make this craft faster.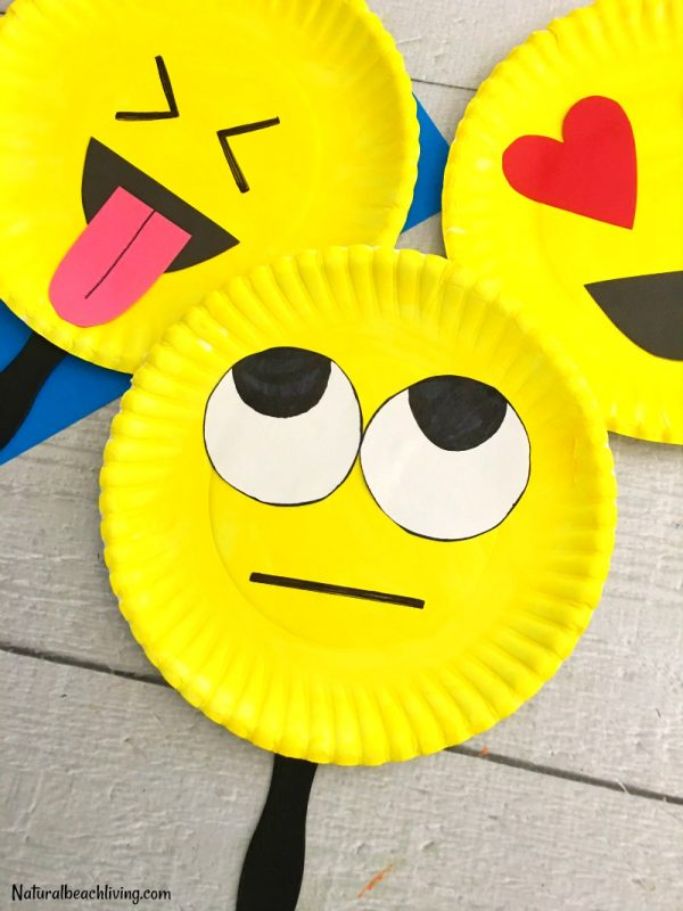 by Natural Beach Living
Make five of the most popular emojis out of polymer clay. This tutorial provides easy-to-follow step-by-step photos for all emojis. These polymer clay emojis are best suited to tweens and teens. Younger children will need adult help with cutting and baking the clay.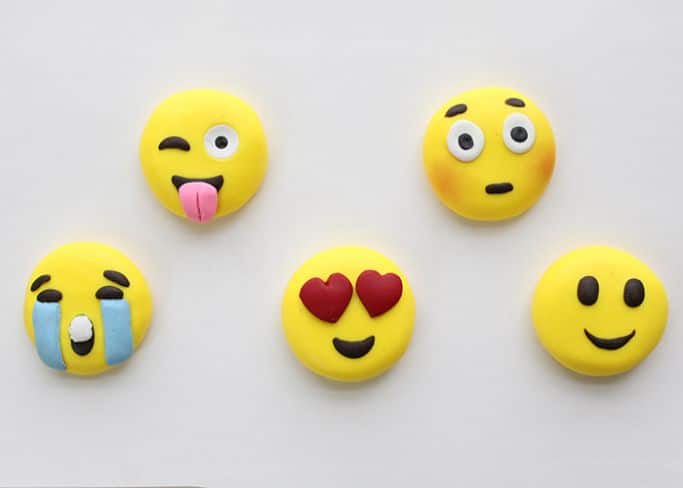 by Woo Jr.
If you don't have coffee filters in your craft drawer, you're missing out! These simple and frugal materials are perfect for crafting with toddlers and preschoolers.
All you need are the filters, crayons, glue, and construction paper to make some cool emojis. The kids will beg to hang them on the wall when you're done.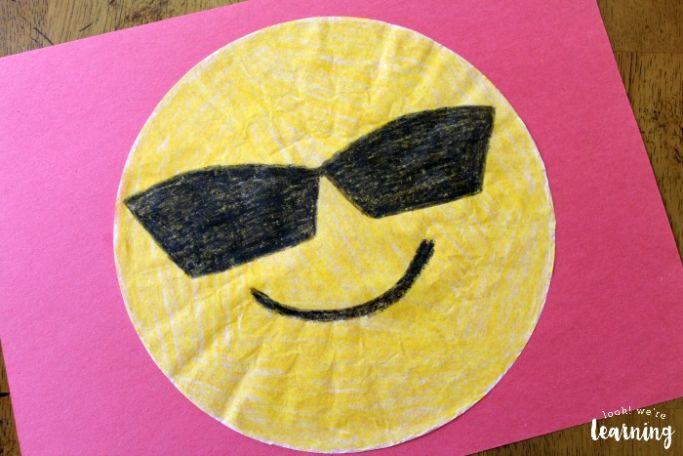 by Look, We're Learning
Any emoji fan will take pride in rocking this simple no-sew shirt. It features the heart emoji, but feel free to make your favorite version. The sunglasses emoji will look fantastic for summer. The eye-roll emoji is quite suitable for certain situations, too. (I'm looking at you, tweens and teens.)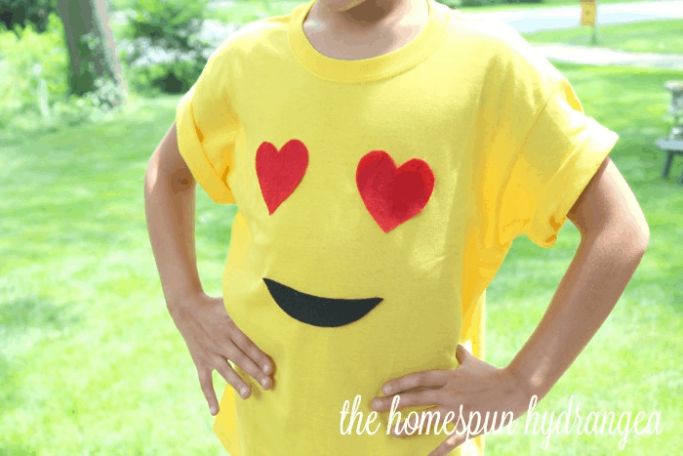 by The Homespun Hydrangea
What could be better than your favorite emoji peeking out of the pages of a treasured book? These emoji corner bookmarks are sure to make you smile each time you crack open a novel to read.
Based on a basic origami pattern, they're quick and easy to make, even for small children.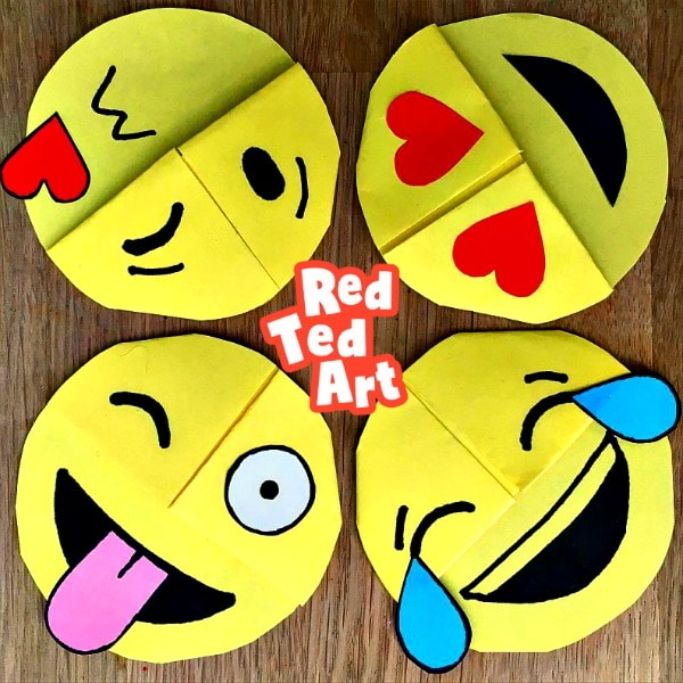 by Red Ted Art
Make bathtime more fun for the kids with some emoji-themed bath bombs. Your kids will look forward to bath time to see these yellow faces fizz away in the water. Anything that makes bathtime easier is a win for moms!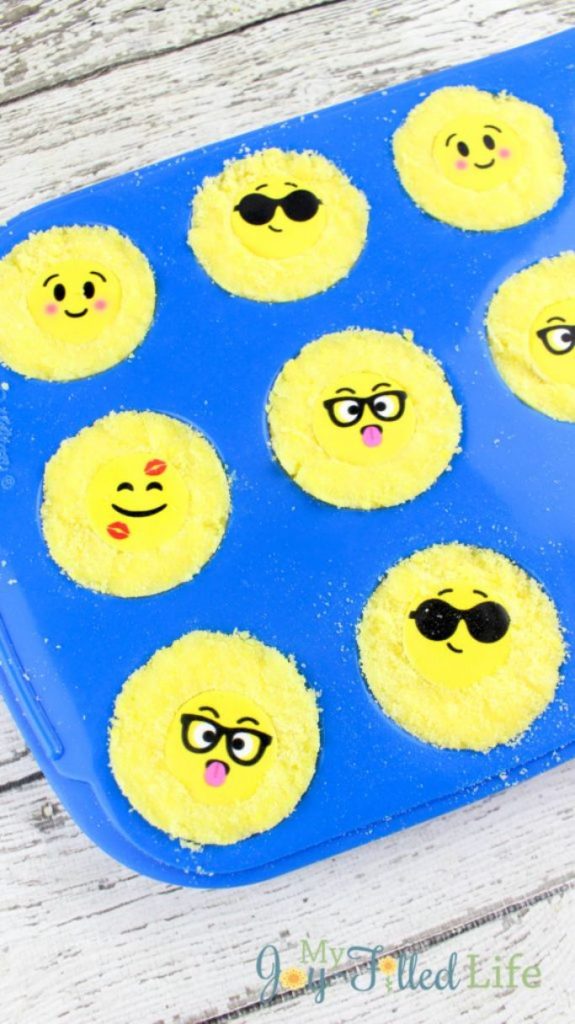 by My Joy-Filled Life
Imagine the delight on children's faces when they find these emoji eggs during an Easter egg hunt.
Decorate blown out eggs, paper mache eggs, or wooden eggs—whichever is your preference. Paint the eggs yellow, and then decorate them with faces by following the easy tutorial.
You'll have as much fun making them as your kids do.
by Studio DIY
Enjoy some crafting time with the kids while making their lunchbox snacks for the week. These emoji pudding snacks are so much fun to put together. Grab some lemon-flavored pudding cups from the store. Then, decorate them with construction paper and Sharpies. Make extras—they'll want to take some to their friends.
The pudding cups are also a terrific emoji party food idea.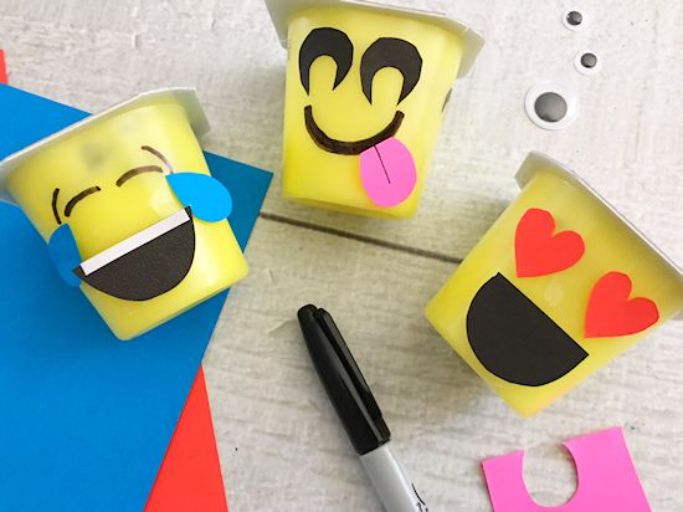 by Our Kid Things
Kids can still enjoy fabric-based crafts without knowing how to sew. This no-sew emoji pillow is simple enough to make with felt, cotton batting, and a glue gun. Make the pillow as large or as small as you'd like. It'll make a cheerful decoration for your child's room.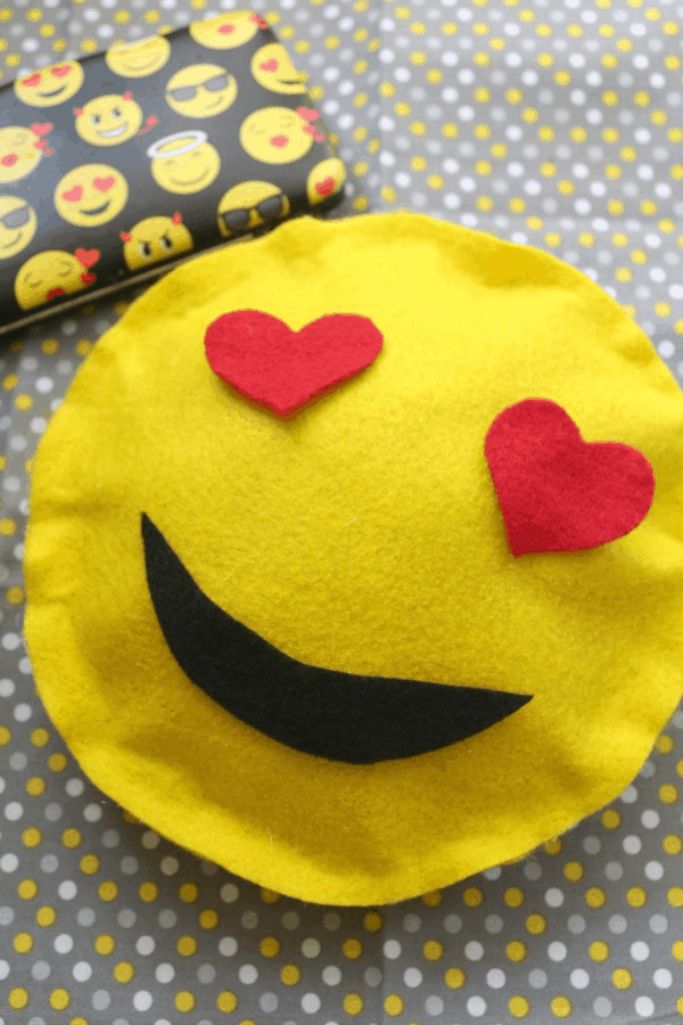 by This Mama Loves
Sure, we've listed another set of bookmarks above, but can a true bookworm ever have enough of them? These emoji bookmarks are different because they're made with duct tape. This should make them extra-durable, holding up to years of reading and enjoyment.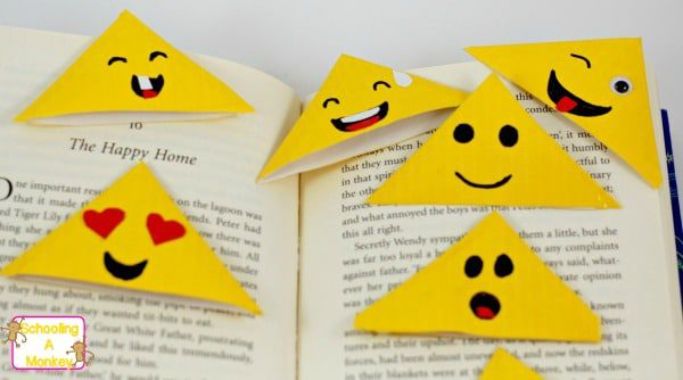 by Steamsational
Whether you're making photo props or a no-fuss costume for the kids, these emoji masks can't be beat. You'll need yellow posterboard, craft paper, and paint sticks or jumbo popsicle sticks. They'll be a hoot at an emoji-themed party.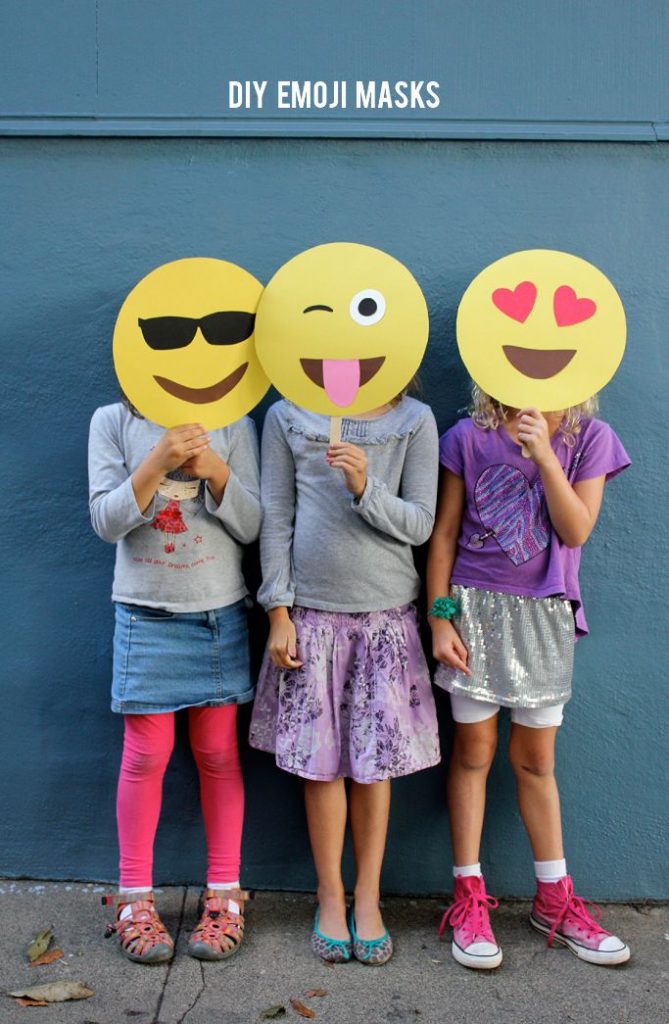 by Alice and Lois
Emojis + slime = the coolest craft ever! Combining two of kids' favorite things is genius. Stress balls are terrific for fidgeters. These slime stress balls are squishy and quiet—the perfect combination. Give them as emoji party favors, gifts, or stocking stuffers for Christmas.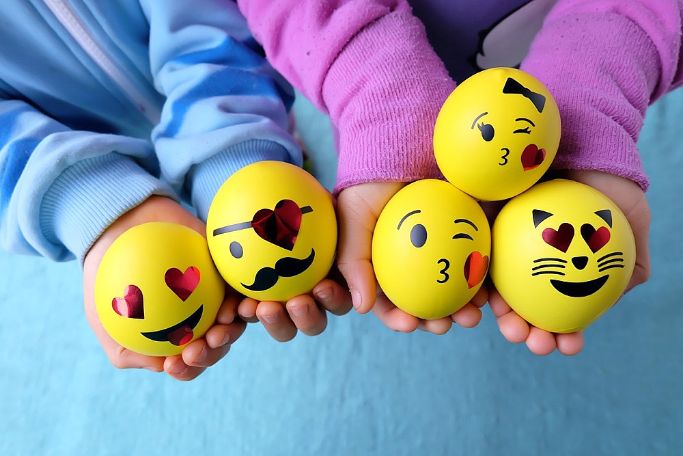 by Hello Creative Family
Brighten up your porch or windowsill with plants in an emoji flower pot. Draw a different face on each side, so you can turn the plant according to your mood.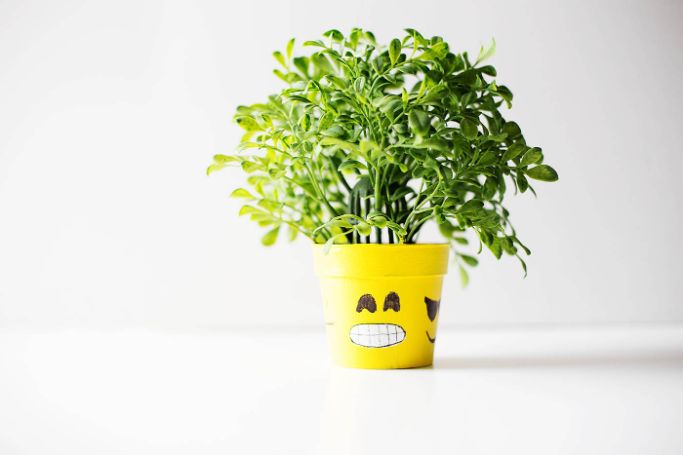 by All for the Boys
Make the cutest, fluffiest emoji decorations by following this tutorial. Use yellow pom-poms to form the emoji base. Then, decorate the fluffy, yellow circles using emoji face stickers. They'll look amazing turned into ornaments or wall hangings.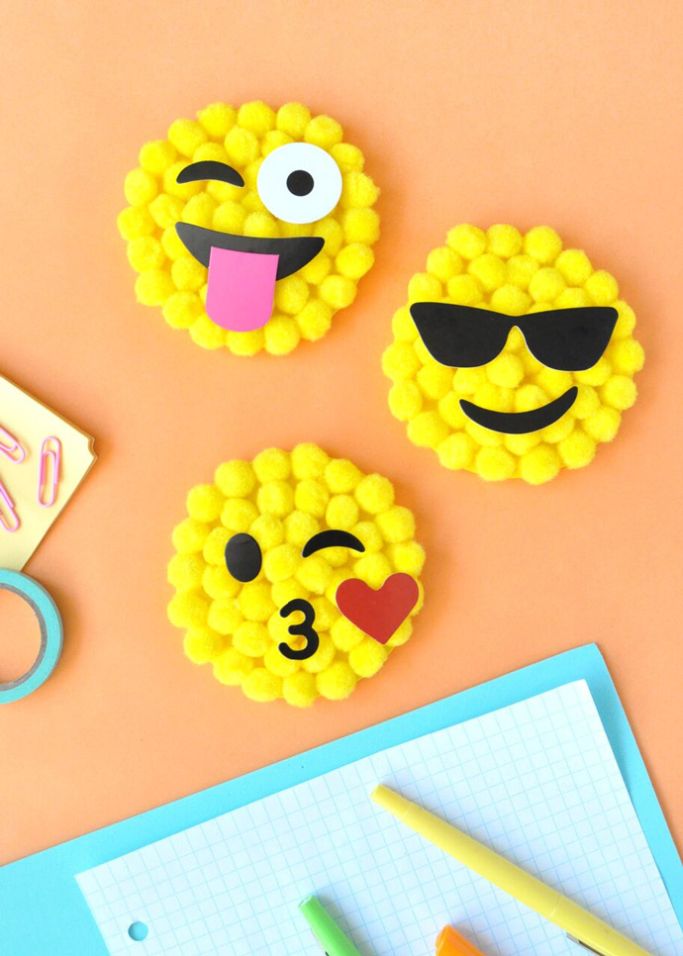 by Handmade Charlotte
Can you believe you can make these cute emoji mini notebooks from a single sheet of paper? Fold and cut until you have a nice square book. Decorate the front with your favorite emoji faces.
Give the notebooks as party favors, or keep them as little scratch pads for the kids.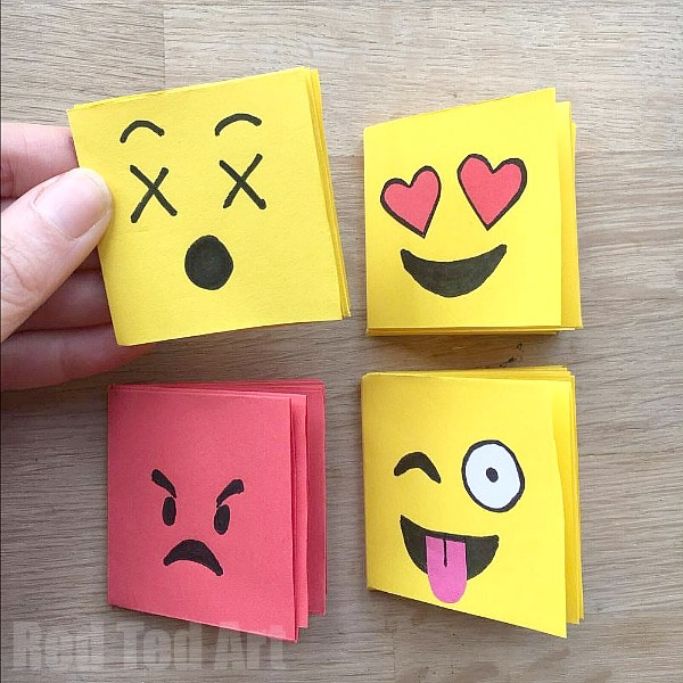 by Red Ted Art
That rounds out our list of emoji crafts for kids. We hope you enjoy reading it as much as we've enjoyed writing it. And if you did, would you be a dear and share it?
Pin it to your Pinterest boards, share it on Facebook, or email it to a friend who's crazy about emojis. We appreciate the support!