Are you trying to find a cute sheep-themed craft to complete your lesson this week? We've rounded up 15 of the cutest sheep crafts for Sunday School that are perfect for all sorts of lessons, from Easter to the parable of the lost sheep.
You'll find ideas that are easy enough for toddlers and preschoolers, but also sheep crafts that are a good fit for older children. From headbands to puppets to paper plate crafts, you'll find a creative idea that'll bring your Sunday School lesson to life.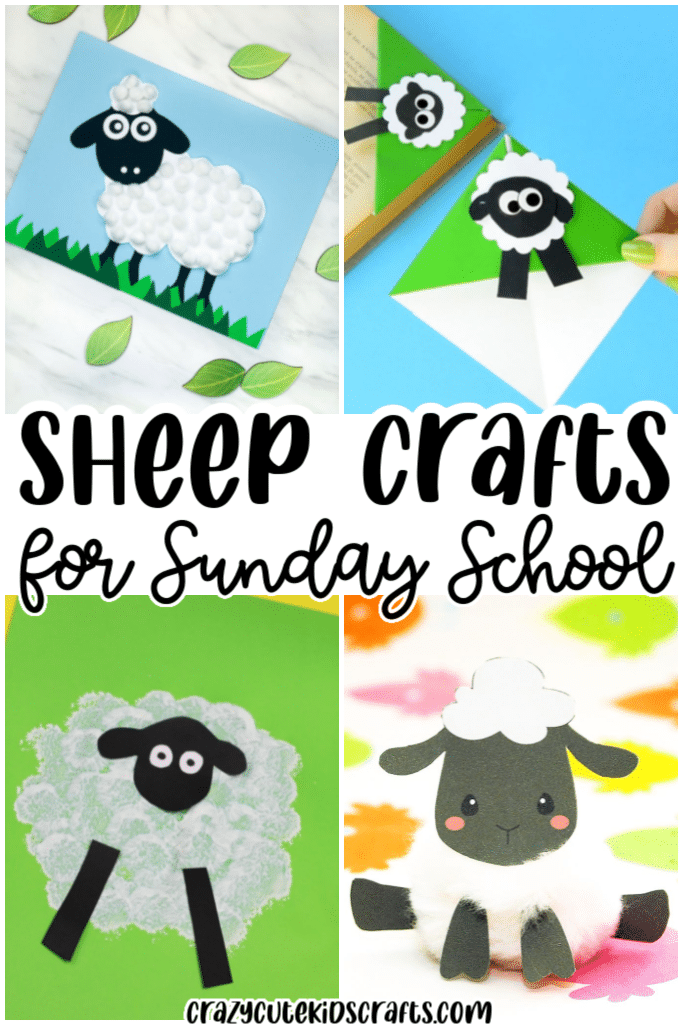 Need some Bible verses to go with one of these sheep crafts? Here are 21 verses about the sheep and the shepherd.
Easy Sheep Crafts for Sunday School
You won't find a cuter sheep craft than this pom-pom sheep. Use the printable template to set up the sheep, and then fill in the white portions with fluffy, white pom-poms.
If you're in a pinch for time, however, you can skip the pom-poms altogether, and it'll still be an adorable craft that kids will be proud to show off to their parents.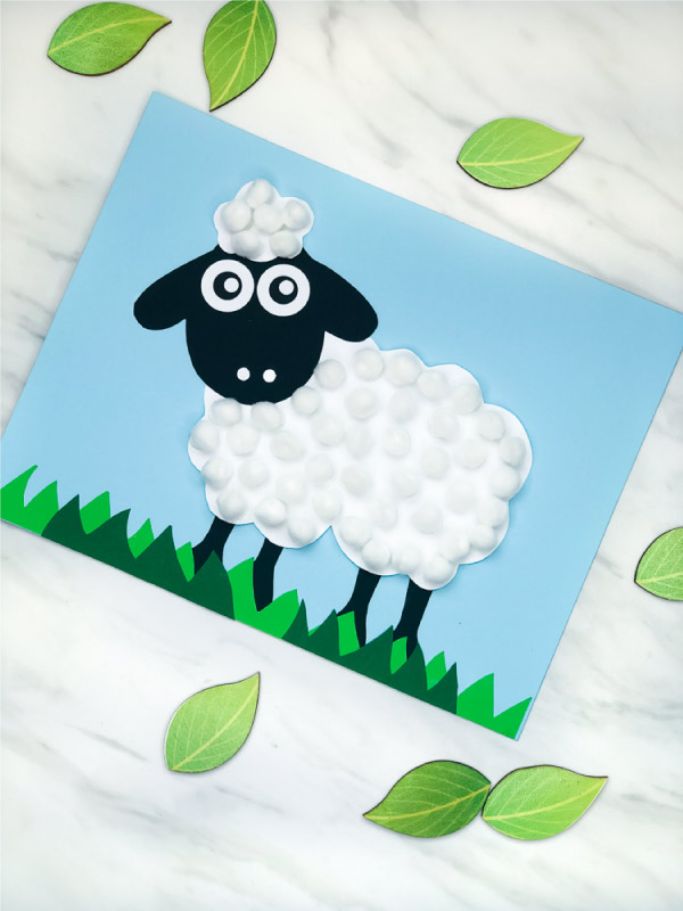 by Simple Everyday Mom
This sheep bookmark is an excellent choice! Kids can use them to save their spot in their Bibles or devotionals, so it's practical as well as adorable.
Make a few extras to give to fellow parishioners or churchgoers. They'll love these cute little bookmarks.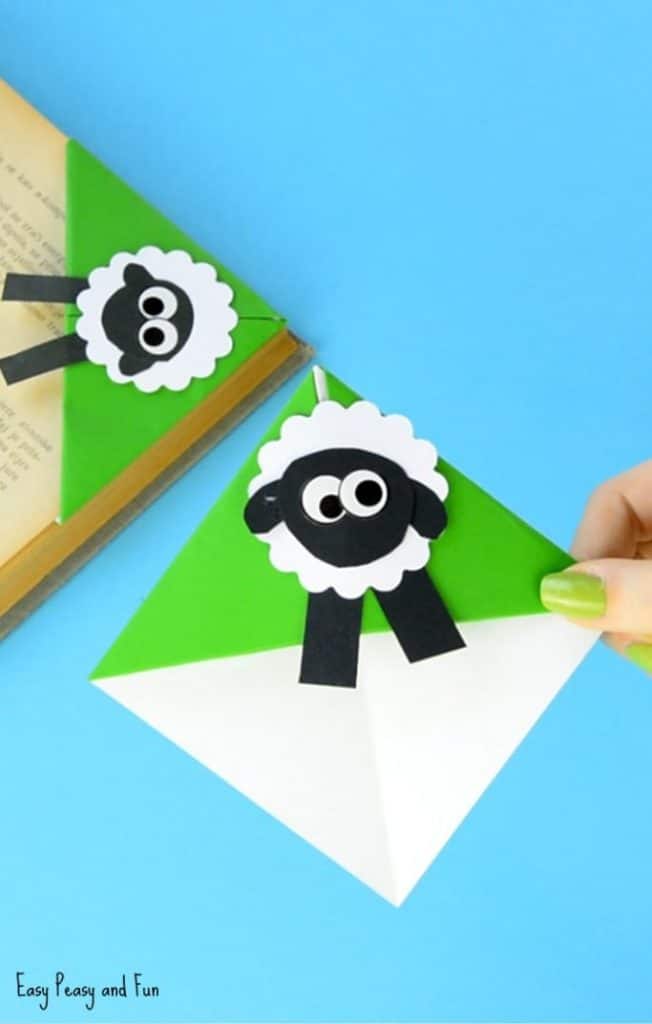 by Easy Peasy and Fun
If you teach toddlers and preschoolers, this craft is simple, fun, and cute no matter how messy it gets. Stamp white paint with pom-poms, and then add the face and legs.
Make it even simpler by pre-cutting the legs and faces. You could also make quick work of the sheep's body by using a loofah dipped in white paint instead of pom-poms.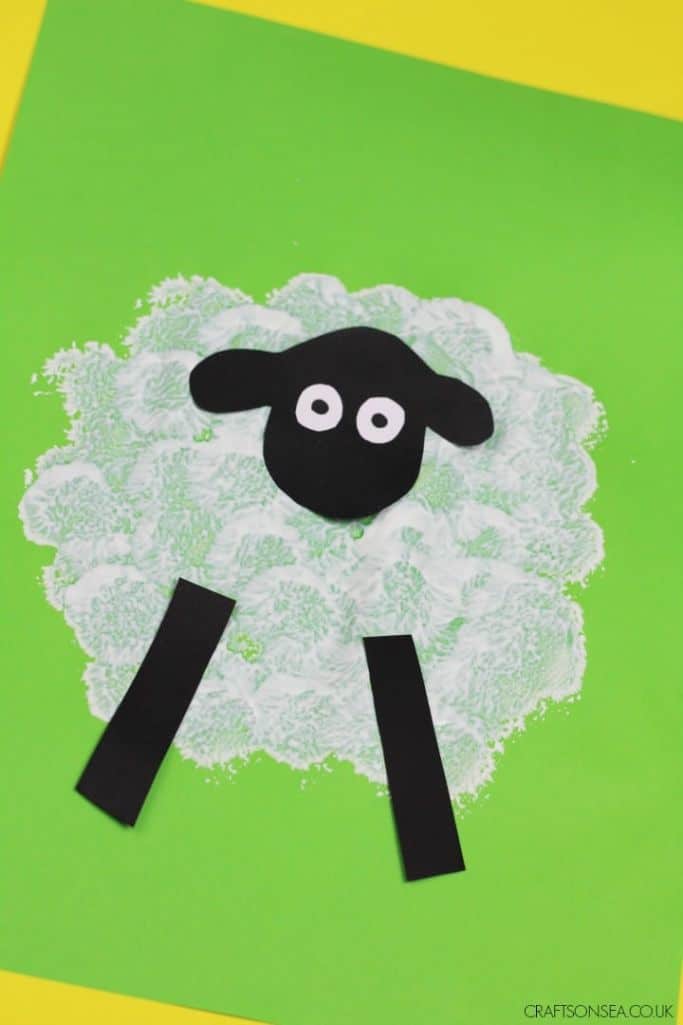 by Crafts on Sea
Print the sheep printable on green paper (or any color you'd like), and let the kids get to work decorating it with their fingerprints. You'll need white paint and some googly eyes.
Provide colorful paints for those who like to brighten things up and decorate in their own style, or just use white to focus on the spotlessness of the lamb.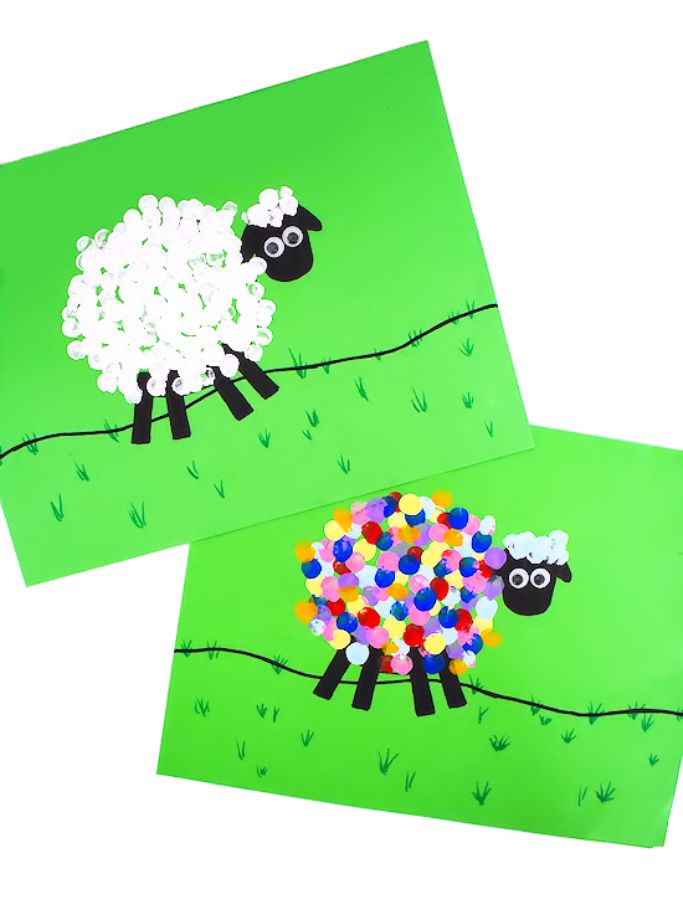 by Our Kid Things
Not only is this a fun sheep craft for Sunday School, but it's such a creative way to show that we are all part of God's flock, no matter our differences, finances, skin color, etc.
You'll need craft sticks, paint, glue, and loads of cotton balls. You can skip the painting step to cut down on the mess by providing pre-painted or dyed popsicle sticks.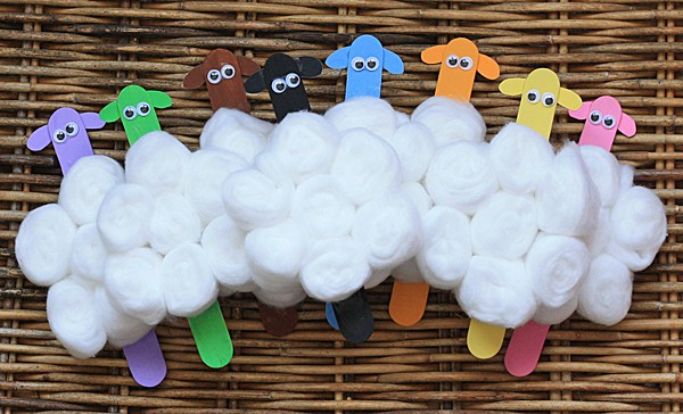 by Crafts by Amanda
This pom-pom craft is a little different! You'll need a large 2″ pom for each sheep. Then, using the printable template, the kids will add the head and legs.
These little sheep are adorable enough to display all year round and will be a great reminder of our Good Shepherd.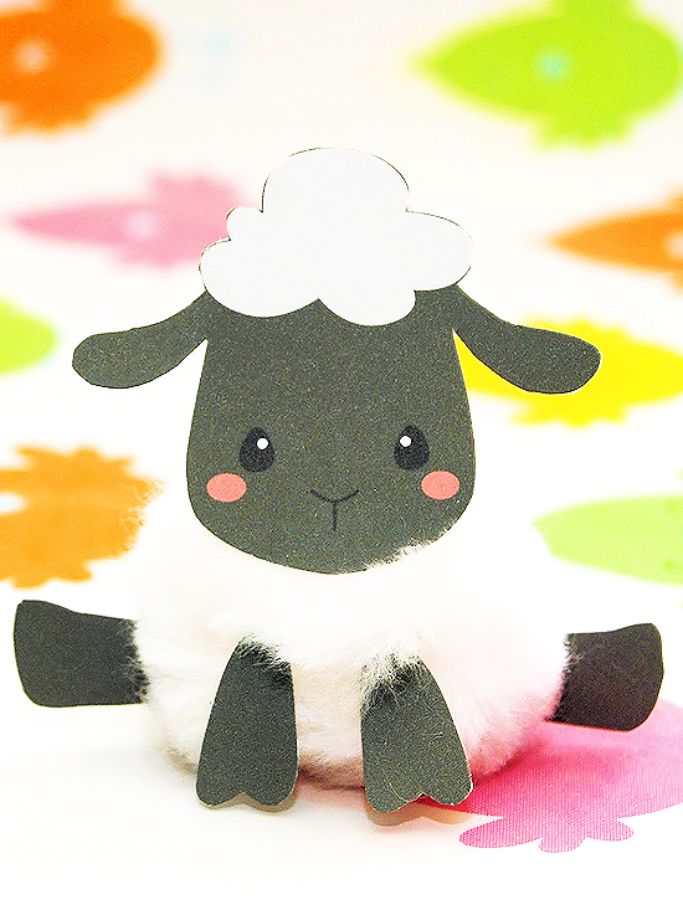 by Our Kid Things
Send Easter greetings to someone special with a perfectly cute sheep card. We love the message that reads "Ewe are special," but if you want to include a scriptural message instead, here's a good one:
Fear not, little flock, for it is your Father's good pleasure to give you the kingdom. – Luke 12:32
The printable template makes this craft so easy to put together.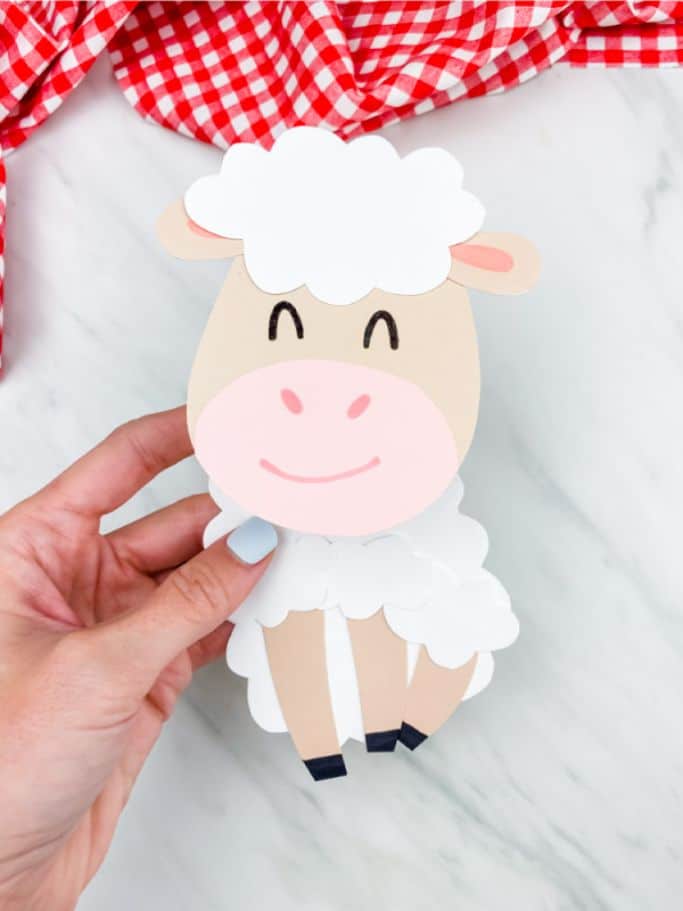 by Simple Everyday Mom
Cupcake liners and cotton come together to make adorable and fluffy sheep that are perfect for a kids' craft. The shredded green paper grass is a nice touch, too, especially since it's so readily available around Easter.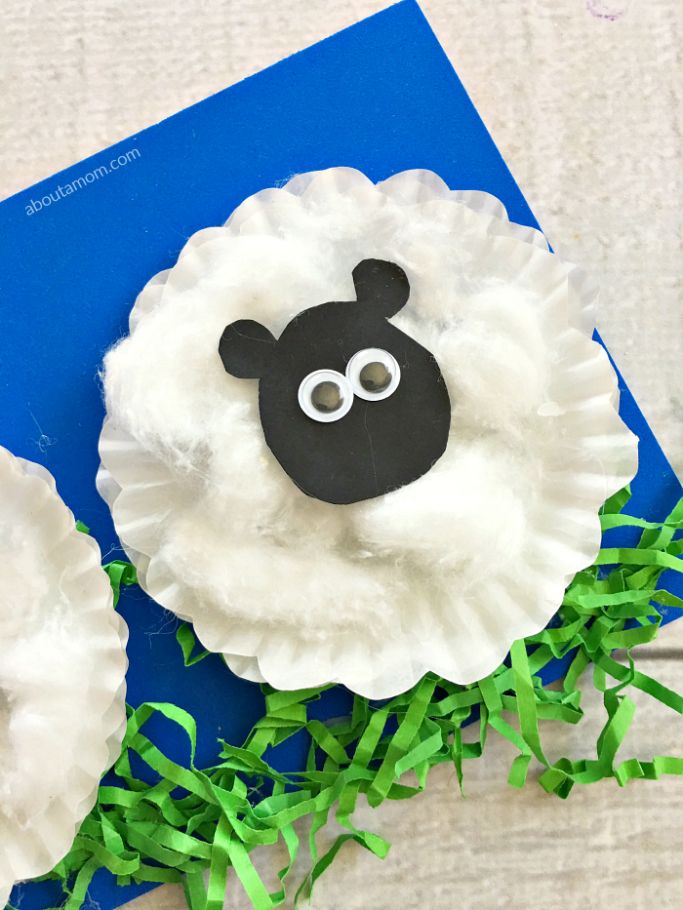 by About a Mom
Paper loops and paper straws are the main elements of this cute sheep puppet. This craft is a little more time-consuming than some others on this list, but making paper loops is great fine motor practice for little fingers.
Plus, you couldn't find a more darling DIY sheep puppet!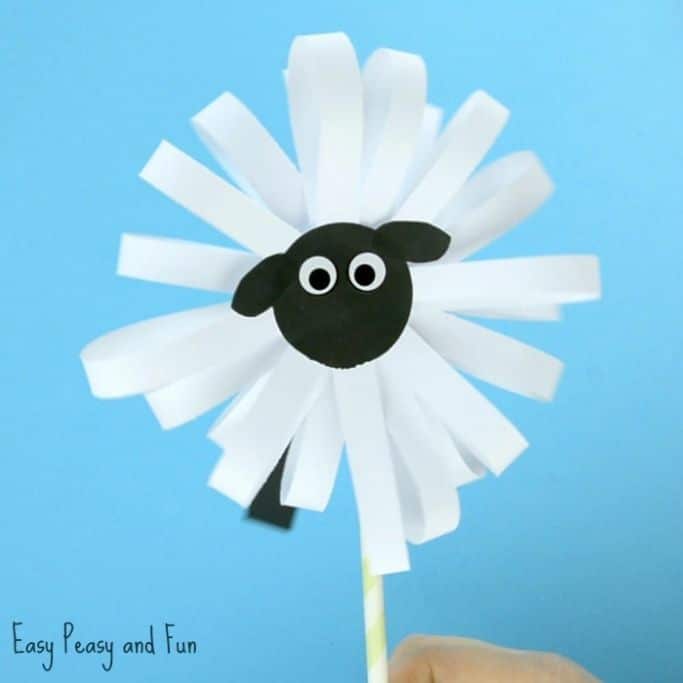 by Easy Peasy and Fun
Kids always love a little costume and pretend play, and this sheep headband combines the best of both worlds. It's a lovely way to show that we are the Lord's sheep, especially during the Easter season.
The templates include a craft version that can be printed or traced onto cardstock or a colorable version that you print on white cardstock for the kids to color in themselves. Both are adorable!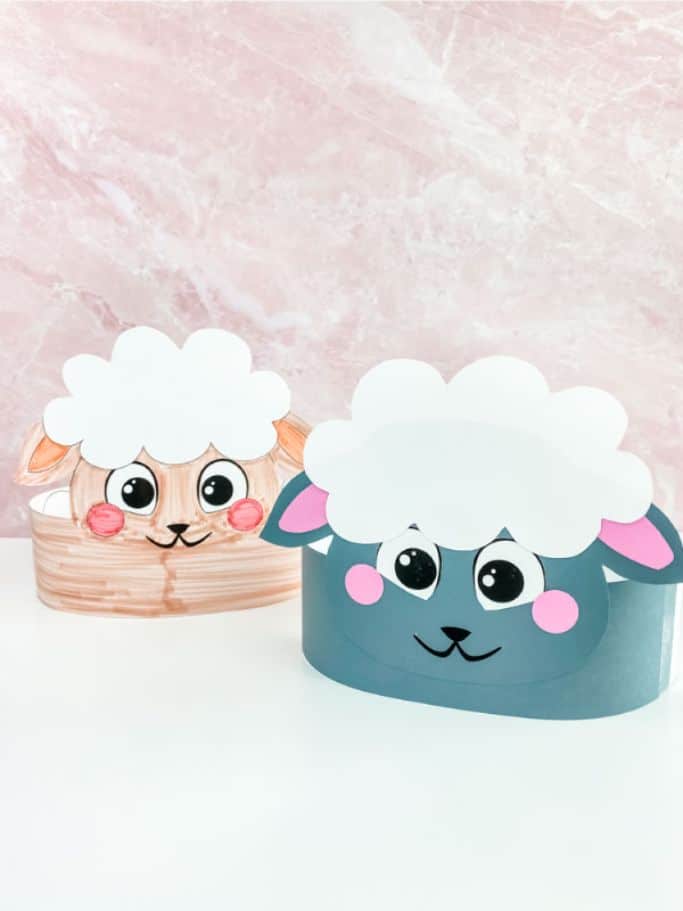 by Simple Everyday Mom
If you've been saving your packing peanuts for a rainy day, here's the perfect project to use them on. It's a lot of fun to craft with because it's soft, squishy, and lightweight. Kids will have a blast using them to make lamb puppets.
Keep in mind that packing peanuts tend to create a lot of static electricity because they are insulators that get charged easily. Keep a handful of dryer sheets on hand to wipe down clothes if you find any are a little too clingy.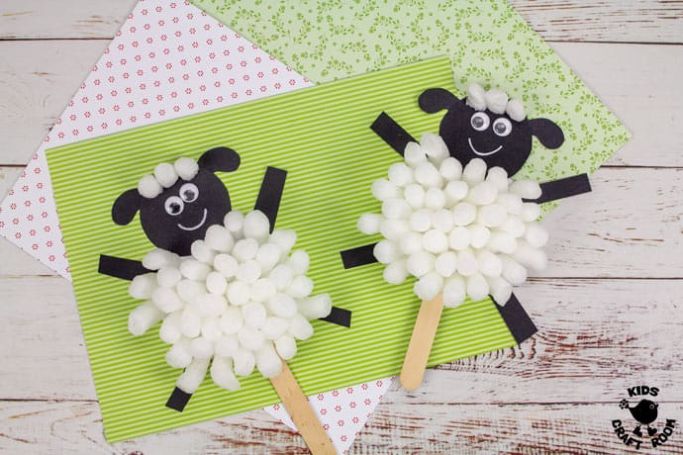 by Kids' Craft Room
You don't need a template at all to make this simple paper plate lamb. The paper ears and nose, cottony face, and large googly eyes come together quickly and easily. Even the toddlers can get in on the fun with this sheep craft!
by Kids Activities
Layer cotton swab tips to make the sweetest little lamb ever. Because there's a danger of little ones sticking q-tips in ears or noses, this craft is best for older elementary-aged children.
You probably have loads of cotton swabs on hand already, so grab some clothespins from the dollar store and a bit of paper, and you're all set.
Some children may need help drawing the face on their lamb.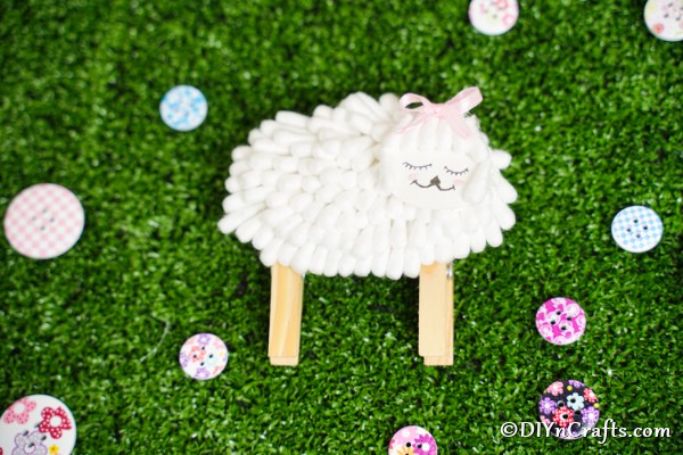 by DIY & Crafts
There are plenty of references to shearing sheep in Scripture, so this shear the sheep craft is very fitting for the occasion. Preschoolers can practice their scissor skills while shearing the sheep and then glue more cotton back on to make the wool "grow back" again.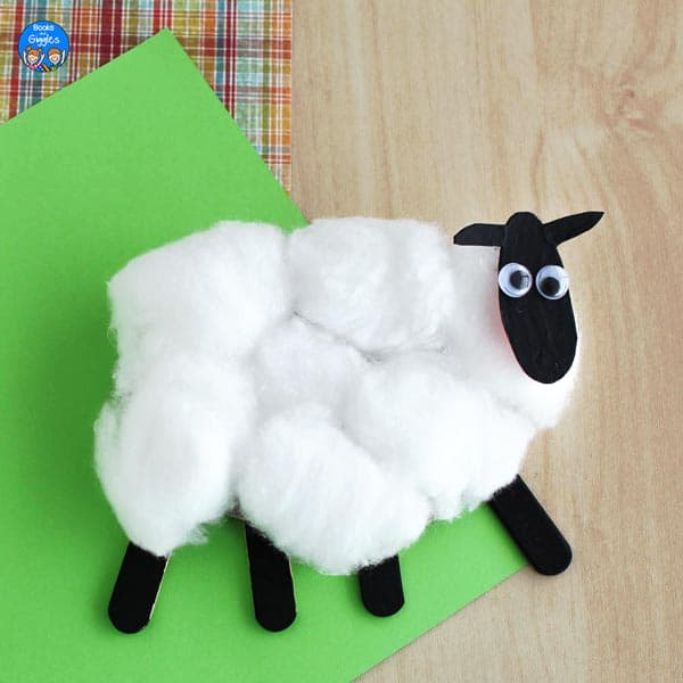 by NAME
We'll finish this list with a lovely sheep craft that kids can use to decorate their doors for Easter. This simple and charming lamb is made with just paper plates, construction paper, googly eyes, and a ribbon.
Won't it look fabulous on the wall, door, or in the window?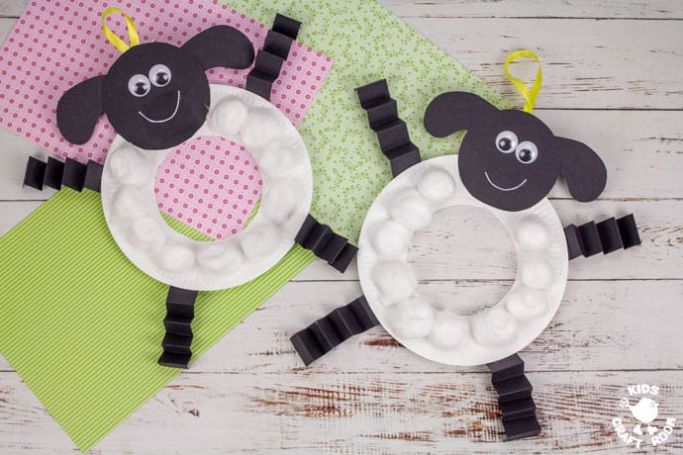 by Kids' Craft Room
We hope you enjoyed these lamb Sunday School crafts for kids. Let us know which one you plan to make.
Don't forget to pin this post to save it for later.