If you're like me, you sometimes need ideas for things to do with your kids that don't involve a lot of screen time. Here are some fun troll crafts for kids that'll keep them entertained and busy without screens! They're easy to make and perfect for impromptu playdates.
Best of all, they're cheap and use materials you likely have lying around the house. So get creative and have some fun with your little ones today! These colorful little trolls will be a bright and cheery addition to your home.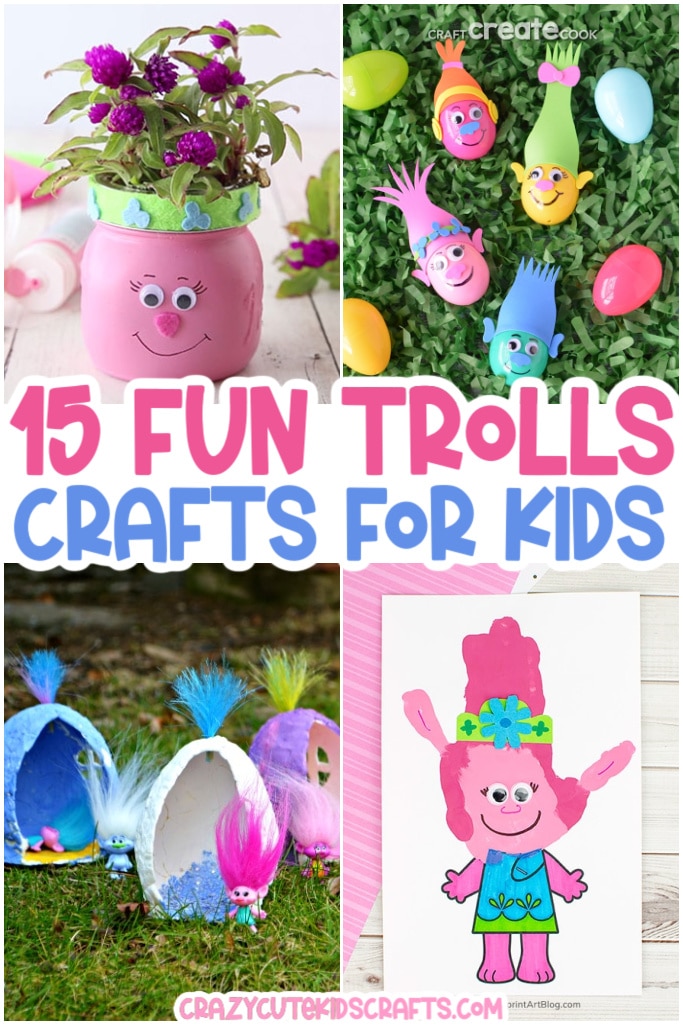 Fun Troll Crafts Kids Will Love
Bookworms are always in need of extra bookmarks. Why not make some with a colorful Trolls theme? With templates for Poppy, Branch, Biggie, DJ Suki, and Smidge, you can have all your favorite characters to save your place in your favorite books.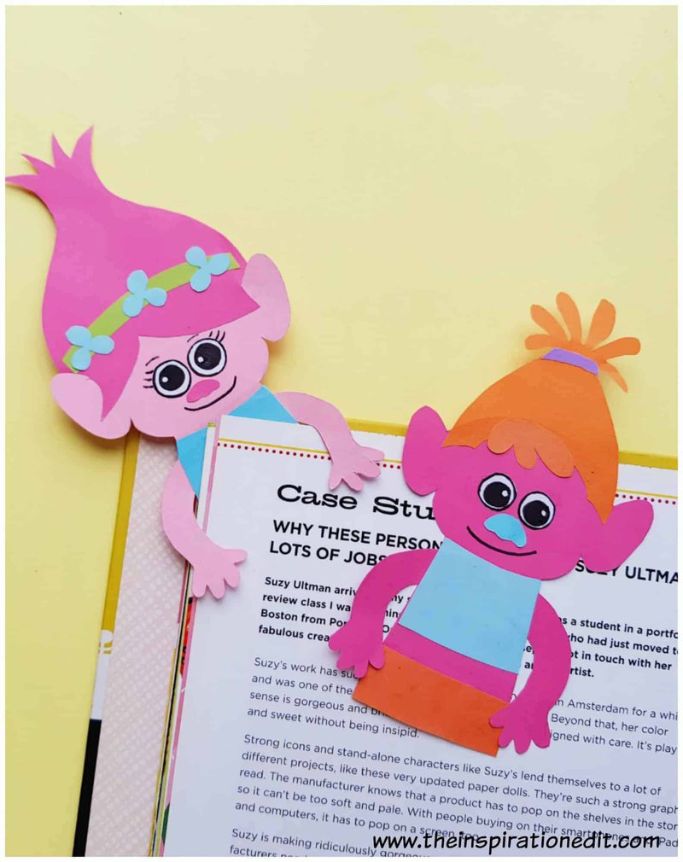 by The Inspiration Edit
These handprint trolls are perfect for toddlers and preschoolers. Not only that, but they'd make super cute birthday party invitations with a personal touch. Make them as a party craft for a Trolls-themed birthday party. There are so many options!
It's easy to make Branch, Poppy, or any of your other favorite characters simply by swapping out the paper and paint colors.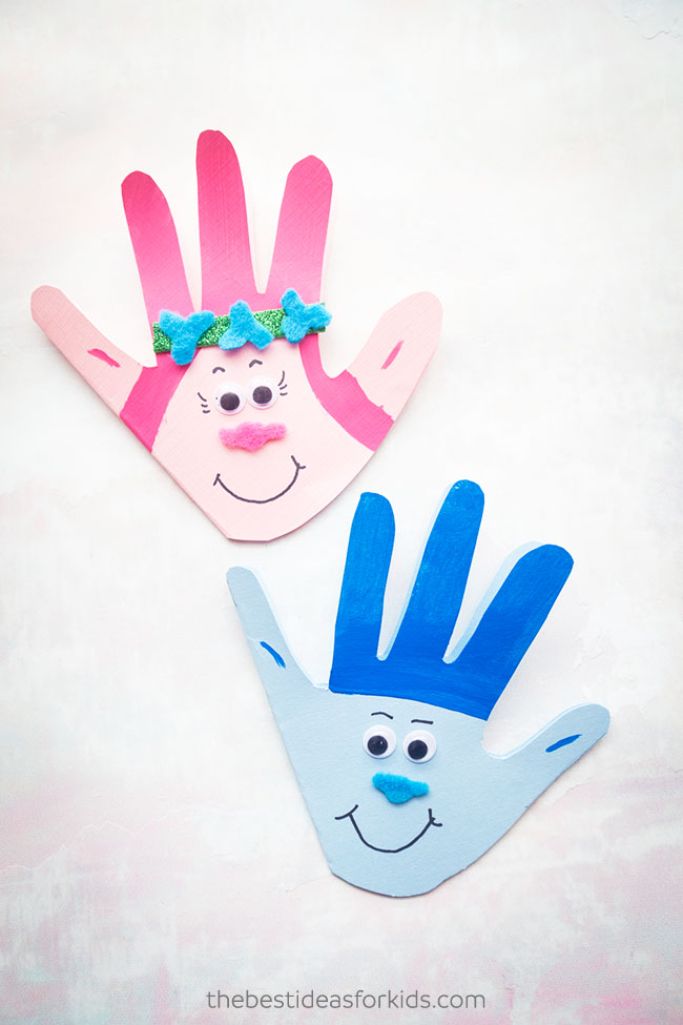 by The Best Ideas for Kids
Origami is a fantastic art form for kids of all ages to learn. Little kids can practice with simple folds, while the older kids can make more interesting designs. Take these origami troll dolls, for instance—aren't they incredible?
Plus, all you need is origami paper and markers for this craft, so origami is certainly an affordable art and hobby to get into!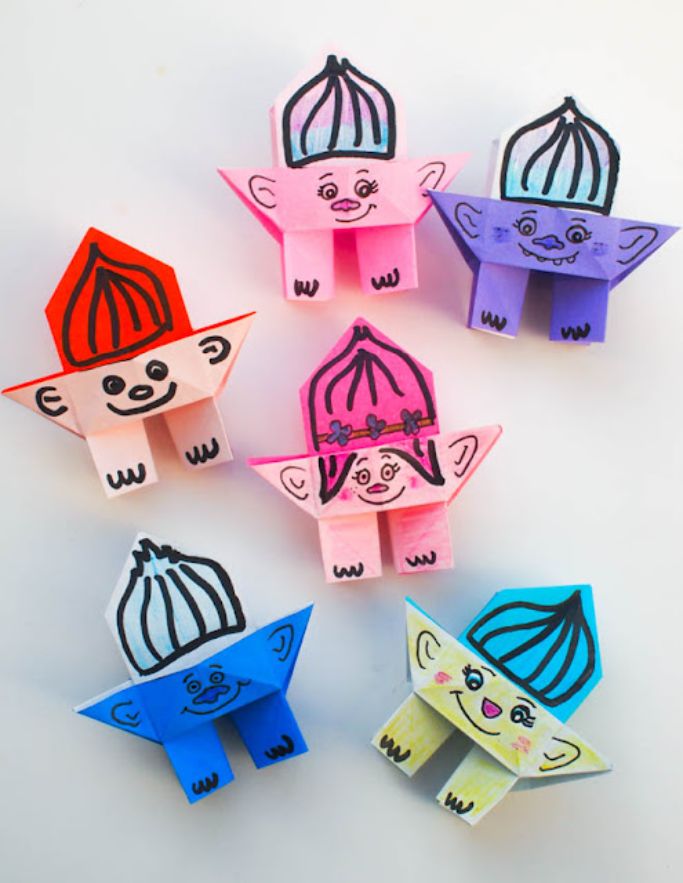 by Pink Stripey Socks
Save this project for when Halloween rolls around. This is an adorable way to decorate pumpkins instead of carving them.
Turn that pumpkin into Branch, Poppy, or your favorite Troll. Each member of the family should make their own Troll to put on display!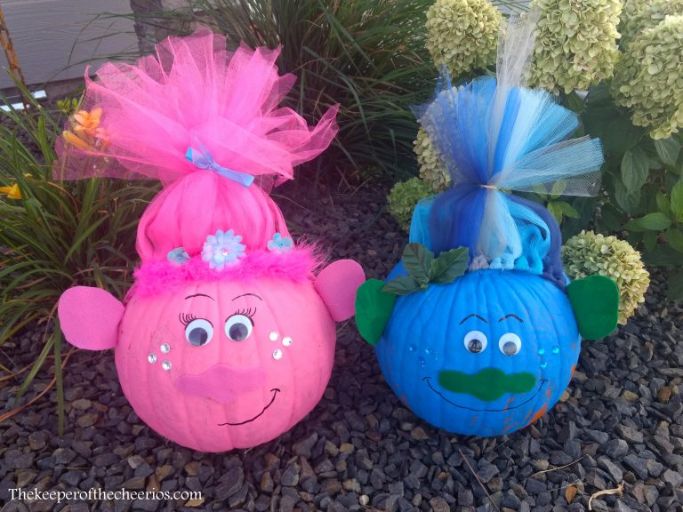 by The Keeper of the Cheerios
The Poppy fans in your life will love this cute Poppy craft made with popsicle sticks. With craft sticks, pink paint, and faux pink fur, you can have this cute Troll ready in under half an hour, excluding drying time.
Use the same instructions and techniques in different colors to make other Troll characters.
Want to turn them into magnets for the fridge, a locker, or a file cabinet? Just add magnetic tape to the back!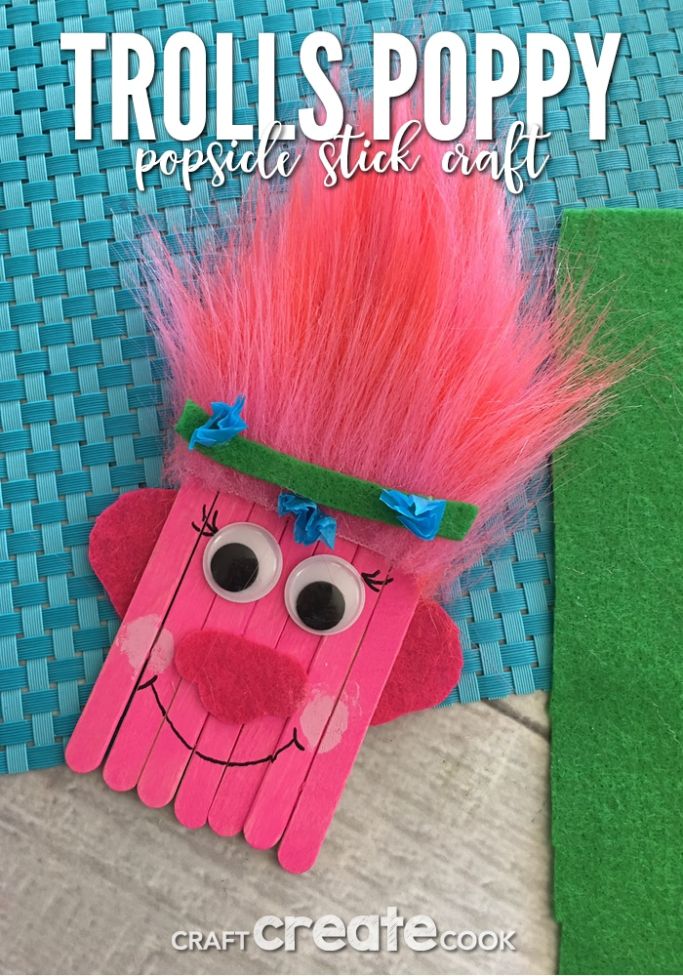 by Craft Create Cook
Want to make a cute piece of decor for your child's room? Look no further than these adorable Trolls mason jars.
Kids will need help applying the primer to the jars. Though you can make them without primer, the primer makes the paint go on more smoothly and requires fewer coats of paint. You can, however, skip the priming step if you want to.
Once the paint is dry and the glue on the decorations is dried, it's time to add something to your cute jars. Flowers or succulents are a great idea! But you can use them as pencil holders for your desk, too.
by The Best Ideas for Kids
Make a dozen Troll eggs for the coolest Easter egg hunt ever! Kids will be delighted as they find their favorite characters.
They're super simple to create using plastic eggs, craft foam sheets, googly eyes, and a marker. You can find all those materials at Dollar Tree, so this is a frugal and fun way to dress up ordinary plastic eggs.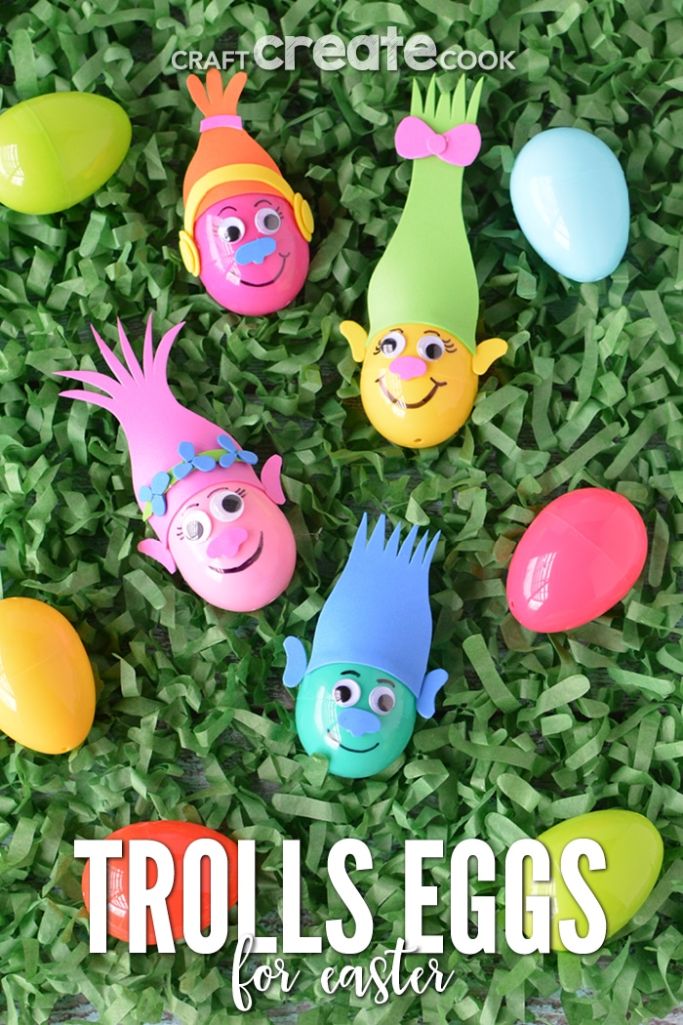 by Craft Create Cook
Add color to your Christmas tree with Troll ornaments made with pine cones and felt.
Grab your paint, hot glue gun, and some scissors, and you'll have a handful of these fun ornaments in no time.
They'll make cute gift tie-ons during the holidays, too.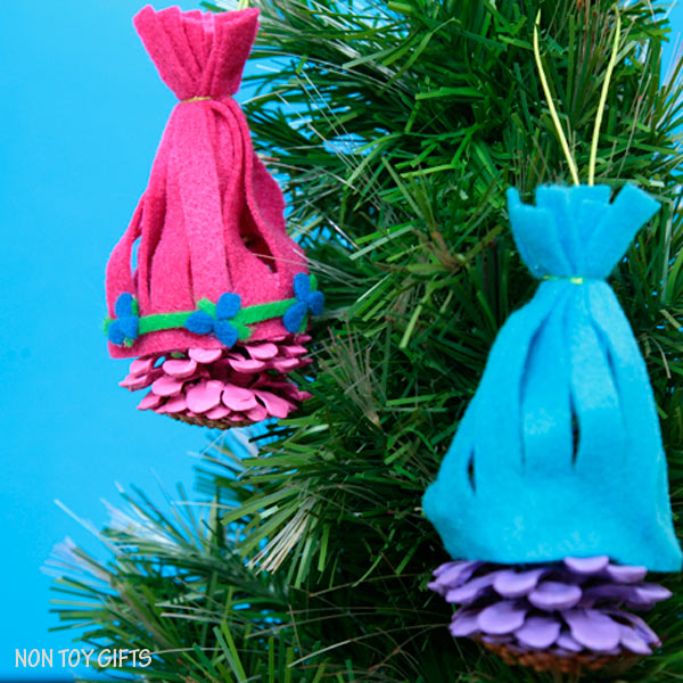 by Non-Toy Gifts
Deck out your pencils in style with some felt Trolls pencil toppers. This project requires some simple stitching, but it's easy enough even for beginners. However, you can also skip the stitching altogether and just use fabric glue to hold all the pieces together.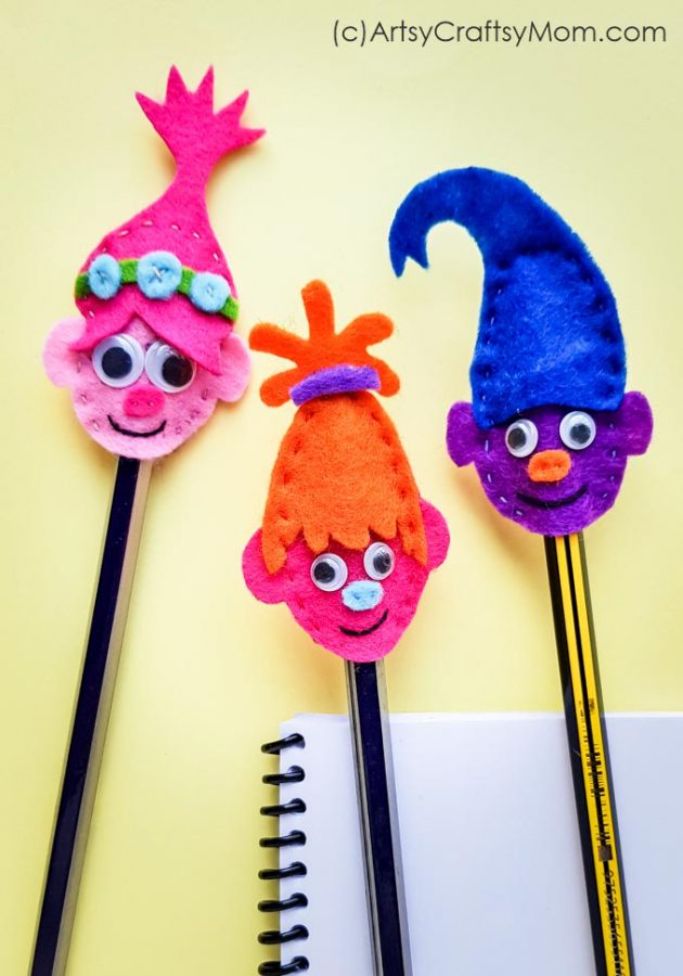 by Artsy Craftsy Mom
Coffee drinkers with a Keurig—start saving those K-cups! You can turn them into so many cute things, like these Troll party favors.
Paint the cups, add faux fur hair and foam ears, and decorate their faces. These little cups are then ready for some candy or a few little trinkets as a token of thanks.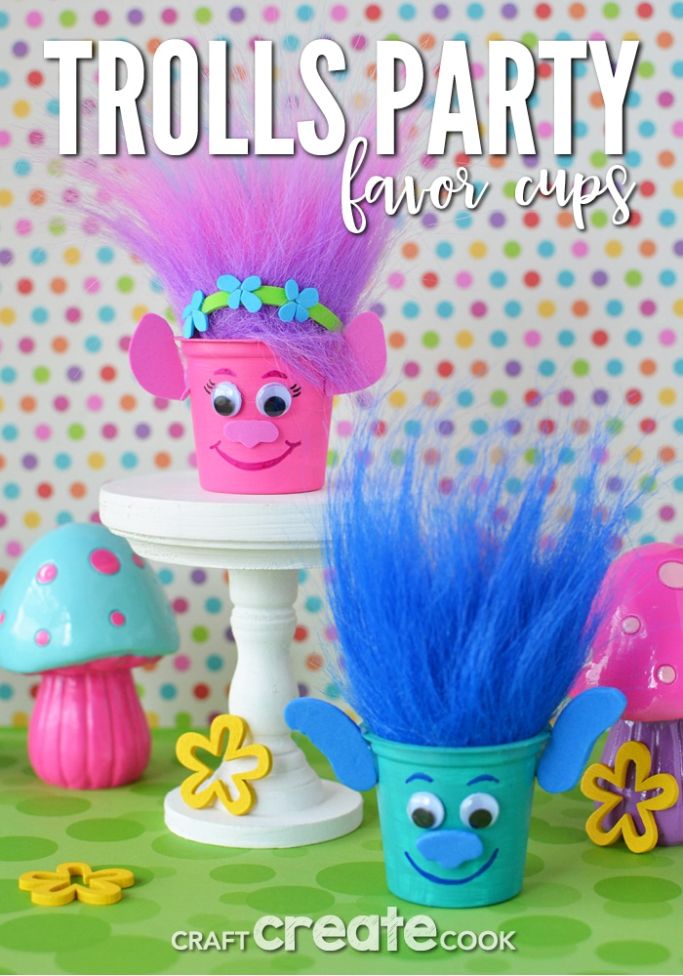 by Craft Create Cook
You'll likely have noticed that the Trolls in the movies live in cute little pod houses. If your child has lots of Trolls, they'll need a place to sleep and hang out. Make one or two of these cute Trolls-inspired pod houses to house the dolls.
They're easier than you'd think, and you can shape them out of homemade clay that's made with only two ingredients—cornstarch and baking soda. You'll need to add water, too, of course.
The colorful tops are made from a feather duster, and there are so many clever touches and tricks that you'll have to read the post to check them out for yourself.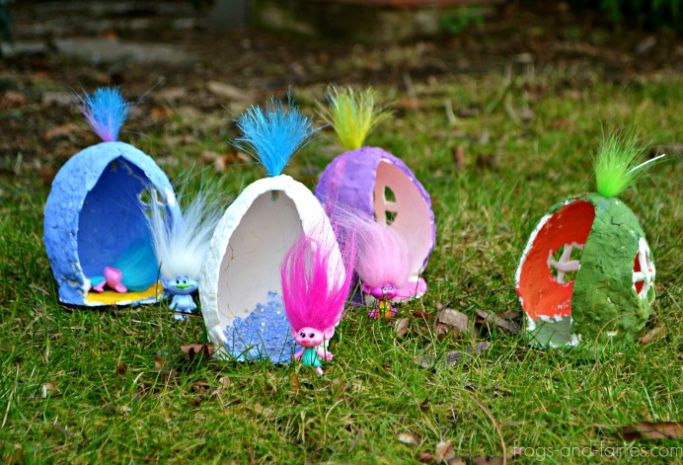 by Frogs and Fairies
Get pumped for reading with some easy and cute craft stick Trolls-inspired bookmarks. Using feathers for their hair is genius and allows you to keep the bookmark nice and flat, just as you'd expect.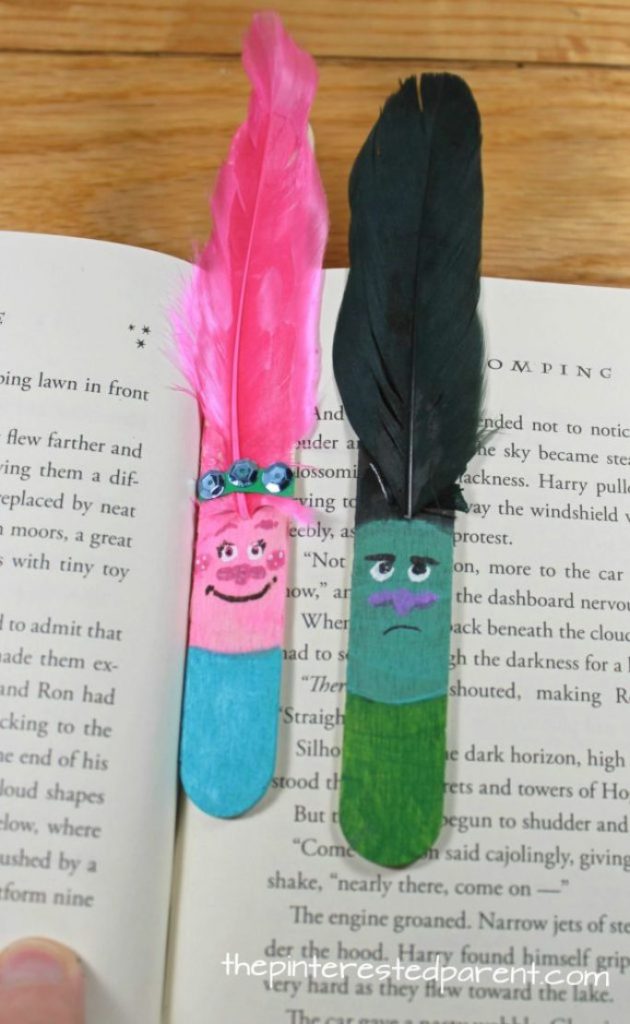 by The Pinterested Parent
Turn yarn and craft foam into adorable magnets for the fridge. Not only are they fun to make, but they'd make cute party favors for a Trolls party, too.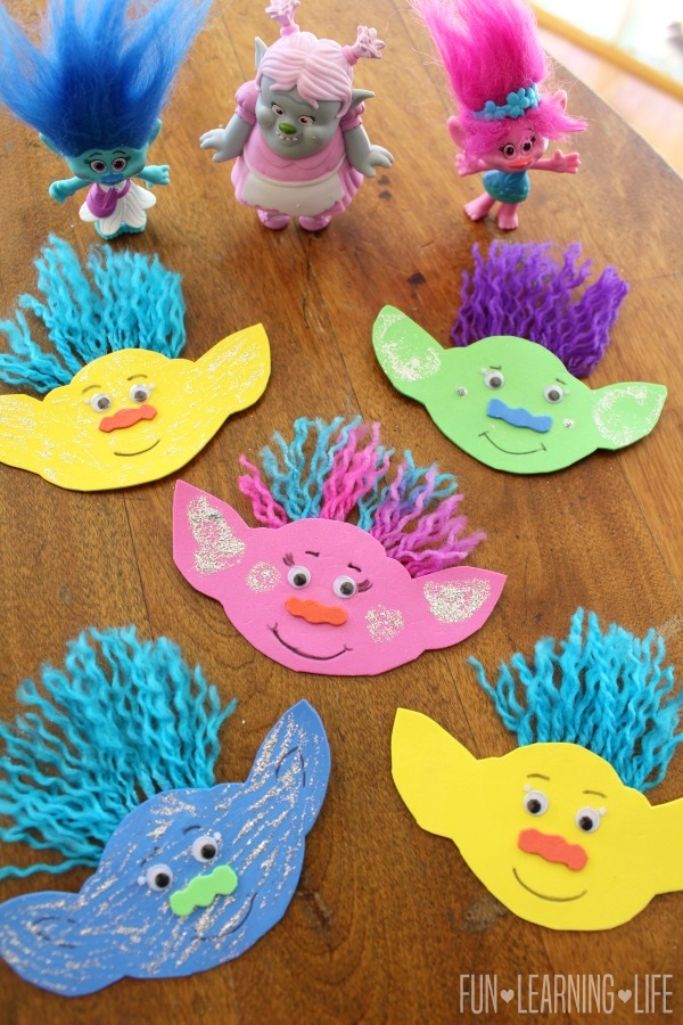 by Fun Learning Life
What time is it? Hug time! These cute hug time bracelets look like the watch-timer bracelets that the Trolls wear in the movies that let them know when it's time to hug (every hour).
They'll make cute friendship bracelets and are perfect for sleepovers or Scout meetings.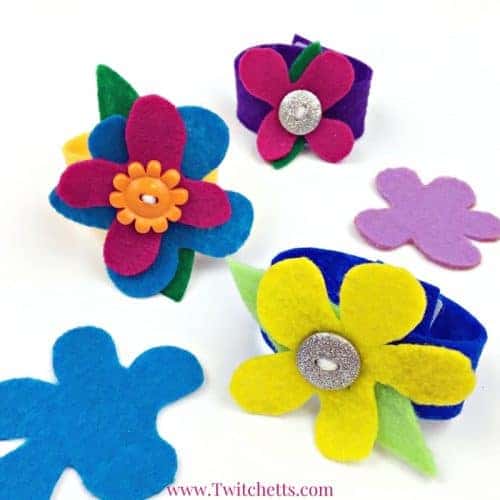 by Twitchetts
Queen Poppy has never looked more adorable! This handprint craft is a cute little keepsake kids can make and save to look back on in later years.
The printable template makes this craft simple and quick. Just add your child's handprint, decorate, and you're done.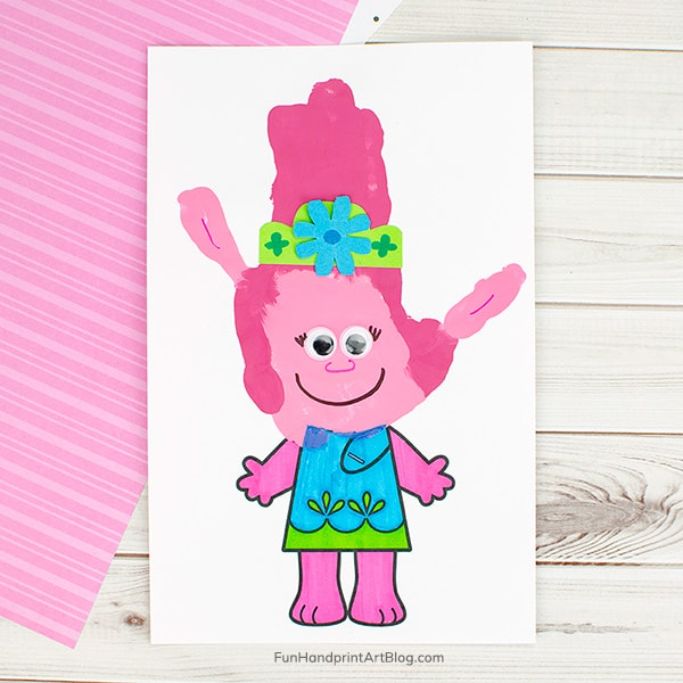 by Fun Handprint Art
Which of these Trolls crafts is your favorite? Let us know in the comments! Don't forget to pin this post to come back to later.